Radon is considered a threat to human health because it causes of lung cancer.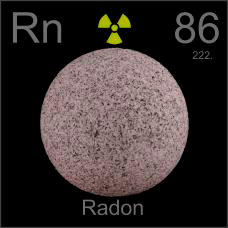 Fig.1 Radon gas
Radon Causes Thousands Of Preventable Lung Cancer Deaths Each Year
Each year in the United States exposure to indoor radon gas causes thousands of
preventable lung cancer deaths. In fact, the Surgeon General has warned that radon is the second leading cause of lung cancer in the United States. Extensive epidemiological evidence from studies of underground miners, complemented by animal data, indicates that radon causes lung cancer in both smokers and nonsmokers, although malignancy is especially likely to occur in cigarette smokers. Exposure to both smoking and radon greatly enhances the risk of lung cancer. The carcinogenicity of radon is supported by a consensus of opinion among national and international health organizations. By informing patients about the health risk posed by radon exposure and providing practical advice about radon testing and mitigation, physicians can have a tremendous positive impact on the national effort to prevent radon-induced lung cancer.
Radon is estimated to cause about 14,000 deaths per year -- however, this number could range from 7,000 to 30,000 deaths per year. The numbers of deaths from other causes are taken from the 1990 National Safety Council reports.
According to the Office of the Surgeon General: Indoor radon gas is a serious health problem in our nation that can be addressed by individual action. Unless people become aware of the danger radon poses, they will not act. Millions of homes are estimated to have elevated radon levels. Fortunately, the solution to this problem is straight-forward. Like the hazards from smoking, the health risks of radon can be reduced.
That's from www.epa.gov/radon/pubs/physic.html. And there is the histogram about it:
Source :
www.epa.gov/radon/pubs/physic.html